The focus of the school is the exciting area of the theoretical models and methods developed for the description of phenomena observed in nuclear collisions and that are forseen to be important at future accelerators. Our aim is to provide a detailed pedagogical overview of the forefront hot and dense matter effects and cold nuclear matter effects, which will be comprehensible and relevant to students.
The School is intended for advanced students, postdocs and young researchers working in particle physics, nucelar physics and theoretical physics. It will consist of invited lectures given by distinguished physicists, as well as session devoted to student posters. Each block of lectures will be accompanied by "hands on" session under the guidance of the lecturer.
The school is organized by
Faculty of Nuclear Sciences and Physical Engineering, Czech Technical University in Prague
together with
Nuclear Physics Institute ASCR 
and it is financed by COST association through COST action CA 15213 Theory of hot matter and relativistic heavy-ion collisions.
Did you know? Indian summer is a period of unseasonably warm, dry weather that sometimes occurs in autumn in the Northern hemisphere.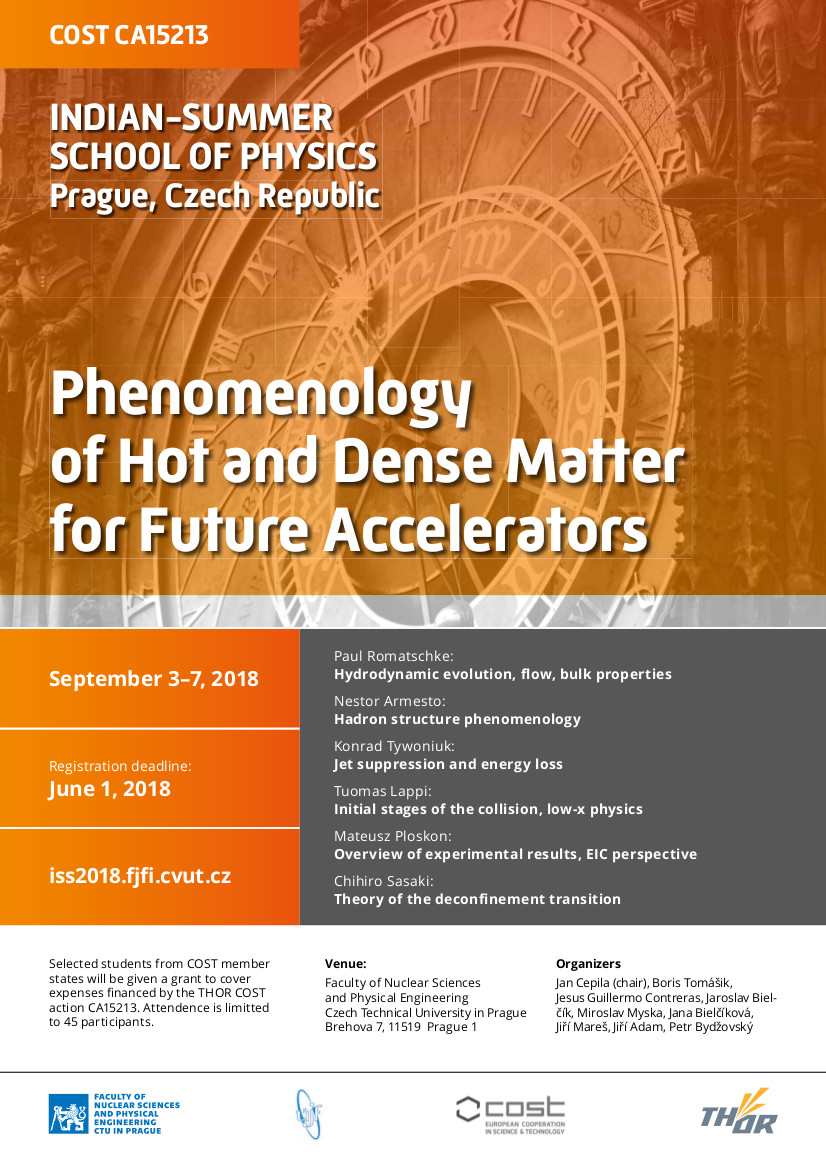 Program
The scientific program of the School starts on Monday morning, September 3, and ends on Friday afternoon, September 7. The program will consist of invited lectures, "hands on" sessions and a participant poster sessions.
Topics and lecturers:
| | | | |
| --- | --- | --- | --- |
| TH1 | Theory of the deconfinement transition and its signatures  | Chihiro  Sasaki |                                                                                                                 |
| TH2 | Hydrodynamic evolution, flow, bulk properties | Paul Romatschke |   |
| TH3 | Initial stages of the collision, low-x physics  | Tuomas Lappi  |   |
| TH4 | Jet suppresion and energy loss | Konrad Tywoniuk  |   |
| TH5 | Hadron structure phenomenology at EIC | Nestor Armesto |   |
| EX1 | Overview of experimental results, EIC perspective  | Mateusz Ploskon  |   |
Lecturers will give 3 lectures (55+5 minutes each) and a "hands on" session (60 minutes). 
Timetable:
September 3

September 4

September 5

September 6

September  7

9:00-10:30 Registration

(Atrium)

9:00-10:30 Hands on session

(Atrium)

9:00-10:30 Hands on session

(Atrium)

9:00-10:30 Hands on session

(Atrium)

9:00-10:30 Hands on session

(Atrium)

10:30-11:30 TH1 Lecture 1

(room B103)

10:30-11:30 TH1 Lecture 2

(room B103)

10:30-11:30 TH1 Lecture 3

(room B103)

10:30-11:30 TH5 Lecture 2

(room B103)

10:30-11:30 TH5 Lecture 3

(room B103)

11:30-12:30 TH2 Lecture 1

(room B103)

11:30-12:30 TH2 Lecture 3

(room B103)

11:30-12:30 TH3 Lecture 3

(room B103)

11:30-12:30 EX1 Lecture 3

(room B103)

11:30-12:30 EX1 Lecture 4

(room B103)

12:30-14:00 lunch break 

(Atrium)

12:30-14:00 lunch break

(Atrium) 

12:30-14:00 lunch break

(Atrium) 

 12:30-14:00 lunch break

(Atrium)

12:30-14:00 lunch break 

(Atrium)

14:00-15:00 TH3 Lecture 1

(room B103)

14:00-15:00 TH3 Lecture 2

(room B103) 

14:00-15:00 TH4 Lecture 3

(room B103) 

 

 

15:00-16:00 TH2 Lecture 2

(room B103)

15:00-16:00 TH4 Lecture 2

(room B103)

15:00-16:00 TH5 Lecture 1

(room B103)

 
 

16:00-16:30 – Coffee break

(Atrium)

16:00-16:30 – Coffee break

(Atrium)

16:00-16:20 – Coffee break

(Atrium)

 Free afternoon
 

 16:30-17:30 TH4 Lecture 1

(room B103)

 16:30-17:30 EX1 Lecture 1

(room B103)

 16:30-17:30 EX1 Lecture 2

(room B103)

 
 

17:30-20:30 Poster session+dinner

(Atrium)

17:30-19:30 – Dinner

(Atrium)

19:00-21:30 – Social dinner

(Vila Lanna)

 
 
Contact
Local organizers:
Jan Cepila (chair)
Boris Tomášik
Miroslav Myska
Libor Škoda
Advisory Board:
Jan Cepila (chair) (FNSPE CTU in Prague)
Boris Tomášik (FNSPE CTU in Prague)
Jaroslav Bielčík (FNSPE CTU in Prague)
Jesus Guillermo Contreras Nuno (FNSPE CTU in Prague)
Jana Bielčíková (NPI Řež)
Jiří Mareš (NPI Řež)
Jiří Adam (NPI Řež)
Petr Bydžovský (NPI Řež)
Correspondence Address:
Indian-Summer School of Physics (ISS2018)
Department of Physics
Faculty of Nuclear Sciences and Physical Engineering
Brehova 7
115 19 Prague
Czech Republic
Email: This email address is being protected from spambots. You need JavaScript enabled to view it.